Iulian Fruntasu was born on July 5, 1970, in Chisinau. Graduated in Philology and Law, and got his PhD in Political Sciences in 1999 at the Institute of History, Academy of Sciences. Since 1992 he worked for the Ministry of Foreign Affairs. During 1997-1988 he worked for the OSCE Mission to Georgia, then three years in Vienna, for the Permanent Delegation of Moldova to the OSCE and the Joint Consultative Group, dealing with negotiations of the CFE adapted Treaty and the Decisions of the OSCE Summit in Istanbul. He worked several years for the OSCE Missions in the Balkans: in Bosnia (2001-2002), Croatia (2002-2004), and Serbia (2008-2010) and also worked as European Initiatives Program Director of the Soros Foundation (2005-2008).
Home page has multiple extras from main blog categories.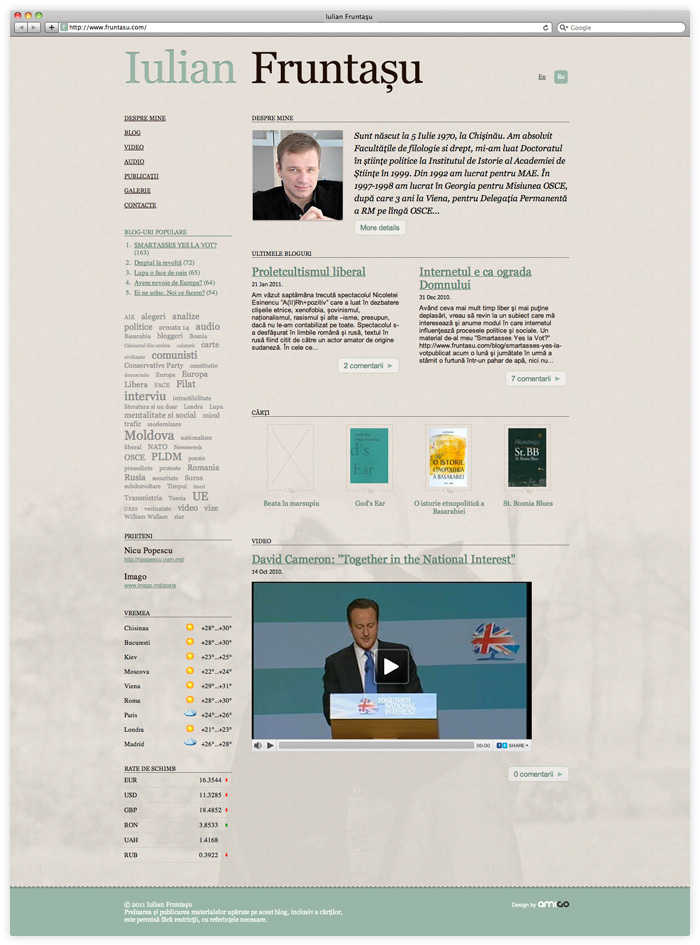 Currently, he's the Senior Advisor to the Prime Minister for Foreign Policy and Relations with Diaspora.He is the author of three books of fiction and a book of history/political science.
The opinions expressed on this blog are personal.
Blogs are not just borring texts but video and audio interviews too