BancaMea is a project of of few young people, that don't belong to any of moldovan banks. Its aim is to inform visitors about what is happening in the banking system of Moldova and present bank products and services in an easy to understand manner for everyone.
For the project we developed its logo along with a few icons used for the homepage banners.


Home page - the page to visit everyday for last financial news, exchange rates and curencies convertor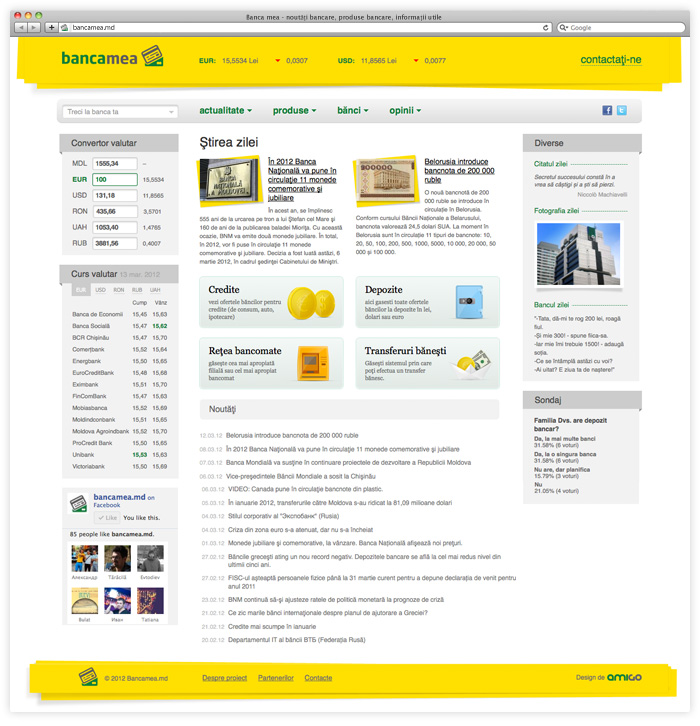 Bancamea not only presents financial information from various sources, but also offers visitors the opportunity to share bad experiences in their relations with a bank or vice versa, to emphasize their strengths.
So easy to shout: select the bank and rate it, write your opinion then see the banks rating
The project needed to show visitors cach machines coverage all over the country. On the way, we added the bank branches and divided the map 2 sections. In the background, works an easy to use module conected to our PHP Cake framework built CMS, that alows the administrator to just point on the map where the branch or cash machine is add the details and populate the network. Of course all this is powered by Google Maps which makes us thankful for this service.
We've developped a few icons to present services available in each bank branches. The green highlighted icon tells: here you can do this or that.

Supa complex exchange rates convertor. Here you can check the best rates for your currency of choice.